The Artist: Kim Barrick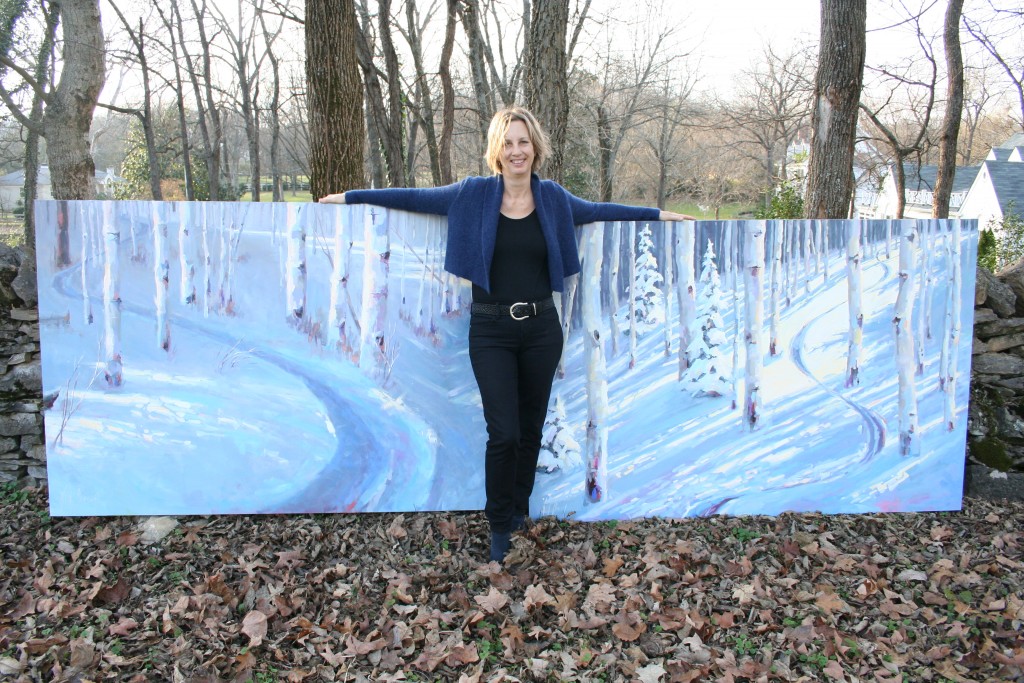 Kim Barrick (b. 1960) is as diverse and complex as the work she creates. The artist deflects labels, challenges authority, and pursues her passions with wonder. Barrick's art has been described as impressionistic and expressionistic while remaining representational, "alive with light and filled with movement," words that could be applied to their creator as well.
Never a follower, Barrick's fresh style is as authentic the artist. Finding the light with loose brushwork and thick paint has earned esteem from both collectors, fellow artists and students. . Recognized early in her career as a "Top Talent" in 2008 by Santa Fean Magazine, this award winning artist is also a sought after instructor of landscape and still life. In addition, her recent wildlife paintings have received acclaim, painting from her own photographs taken while painting on location. A native of Colorado and resident of Tennessee, Barrick travels West frequently and maintains homes in both states. Her work is represented by galleries in both South and West. Numerous artworks are held in private and corporate collections throughout the US and Europe.
In 2001 Barrick founded The Chestnut Group, plein air painters for the land. www.chestnutgroup.org widely recognized as the premier plein air/conservation art organization. In addition, Barrick was instrumental in establishing Wild About Colorado plein air festival supporting The Continental Divide Land Trust.. She is a signature member of PAAC Plein Air Artists of Colorado. She also serves the land she loves on the Friends of Radnor Lake Board of Directors.
Publications
The Birds and the Bees
Nashville Arts Magazine, May 2015
Top Talent
Santa Fean Magazine, June/July 2008
Other Invitational Exhibits
The Harding Art Show, National Juried Exhibit, Nashville, Tennessee 2004-2009
Artclectic, Nashville, National Juried Exhibit, Tennessee 2005-2007
Fine Art in Brentwood, Regional Juried Exhibit, Brentwood, Tennessee 2004-2009
The Art Event, Regional Juried Exhibit, Nashville, Tennessee 2007-2009 Featured Artist 2008
Awards
Belle Meade Plantation Regional Juried Exhibit
Nashville, Tennessee 2011, 2012
Juror
Wild About Colorado
National Juried Exhibit benefiting Continental Divide Land Trust
Summit County, Colorado, July 2014-2009
2014 2nd place Artist Choice, 3rd Place People Choice
2013 1st place Artist Choice, 3rd place People's Choice
Plein Air Southwest
Outdoor Painters Society, National Juried Exhibition
Southwest Gallery, Dallas, Texas, April-May 2011
Honorable Mention
Breckenridge Music Institute Poster 2011
Breckenridge, Colorado
2009 Holiday card
Metro Nashville Arts Council
Selected Group and Invitational Exhibits
Gala Invitational
Huntsville Museum of Art
Huntsville, Alabama 2008-2016
New Tricks
With Lee Hamblen and Brenda Stein
Centennial Arts Center
Nashville, Tennessee, June-July 2015
Three Voices
With Brenda Stein and Carolyn Riess-Dodson
Centennial Arts Center
Nashville, Tennessee, February-March 2012
Oil And Water
Duo Exhibit with Darryl Steele
Local Color Gallery
Nashville, Tennessee, April 2011
Plein Air Southwest
Outdoor Painters Society, National Juried Exhibition
Southwest Gallery, Dallas, Texas, April-May 2011
Saving Paradise
Leu Gallery Regional Juried Exhibition
Belmont University, Summer 2010
Vanishing Barns
Anne Irwin Fine Art
National Invitational Exhibit
Atlanta, Georgia 2008 & 2009
Small Works
National Invitational Exhibit
Atlanta, Georgia 2008
Solo Exhibits
Coloring
Local Gallery 25th Anniversary Gala
Nashville, Tennessee, April-July 2015
Opening Doors
Gallerie Corazon
Santa Fe, New Mexico, July 2009
New Works
Auld Alliance Gallery
Nashville, Tennessee, April 2008
September Artist
Belle Meade Plantation
Nashville, Tennessee, September 2006
Featured Artist Main Gallery
The Renaissance Center
Dickson, Tennessee, June-July 2006
Winter
The Centennial Club
December 2005-January 2006
Nashville, Tennessee